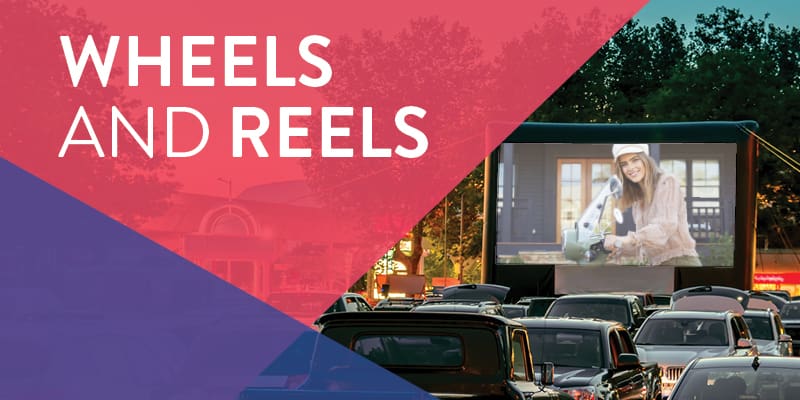 Wheels & Reels
Wednesdays August 5 – August 26 | 6-8PM
Stay safely in or around your vehicle and enjoy your favorite movies!
August 5: Shrek: PURCHASE TICKETS HERE 
August 12: School of Rock: PURCHASE TICKETS HERE
August 19: Princess Bride: PURCHASE TICKETS HERE
August 26: Grease: PURCHASE TICKETS HERE
 Brought to you by Southlands Metropolitan District #1.
Tickets
Limited number of tickets available for each Wheels & Reels movie & will become available weekly for each movie.
Ticketing site closes at 3PM on the day of the show & tickets will NOT be sold on-site.
$15 donation per vehicle (maximum 6 people per vehicle) All proceeds will be donated to Food Bank of the Rockies
Once you've purchased your tickets, please ensure you bring a printed copy or an electronic version to the concert. Tickets will be checked at entrance.
Location
Parking lot on the corner of S. Southlands Pkwy. & E. Plaza Avenue on the west side of Ted's Montana Grill
Enter Wheels and Reels parking area at E. Plaza Avenue
Parking lot opens at 6:30PM. Park early for pre-movie activities. Movies start at dusk.
Reentry will NOT be permitted.
Select Southlands restaurants will be available for take-out and delivery right to your car.
No alcohol permitted. Social distancing will be observed.
Prior to your arrival, please see the complete Wheels and Reels rules & regulations to ensure your health and safety.
·      Social distancing measures will operate in accordance with the Tri-County Health Department Guidelines
·      Vehicles will be spaced six feet apart
·      Guests are encouraged to remain in their vehicles
·      You may leave your car and sit in your own chairs / blankets if you stay within your vehicle's designated area to comply with social distancing; either in front of or beside vehicle
·      Face masks are mandatory anytime you are outside of your vehicle.
·      This event is PACK IT IN / PACK IT OUT to avoid unnecessary contact.
·      Please be respectful and don't leave trash.